Have a bright and energetic party with your friends!
We can offer various balloons in suitable colors for your party room decoration. Let it be bright!
Party rooms are available next to each entertainment area.
Choose your favorite entertainment area and go!
KLIKK CAFE will take care of treats for your guests.
Order a meal for your party from KLIKK cafe and get a 20 euro discount for the party!
Private party in Nerf area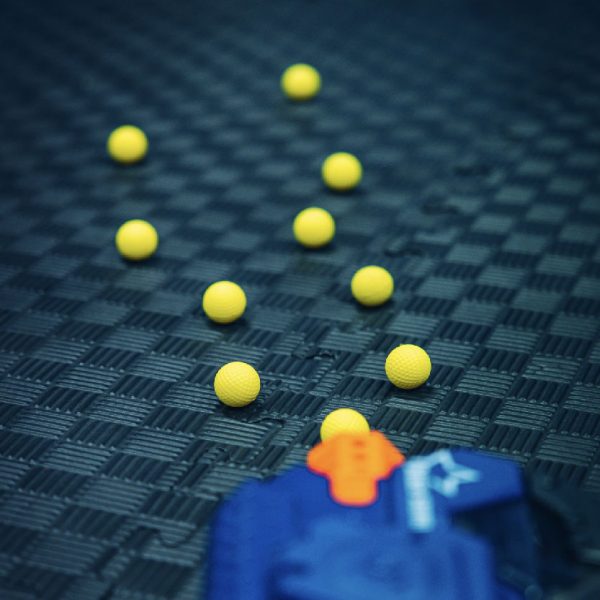 If you want a smooth party in the Nerf area where your gaming company will try out the Nerf Rival* guns, reserve the entire recreation area together with the party room!
*Nerf Rival guns are the perfect alternative for those who like paintball; with us, the game can be made painless and exciting.
Vegetable plate Five types of vegetables, sauce
KLIKK salad bowlWith chicken or falafel
"Sea" of chipsFive types of chips and dip
French friesTwo types of fries with ketchup
French fries with chicken nuggetsTwo types of french fries, two types of nuggets and sauce
Gourmet plateTwo types of cheese, spring rolls, onion rings and sauce
Nugget plateTwo types of nuggets
Vrap plateChicken, cabbage mix, garlic sauce, tomatoes, cucumbers, pickled onions, feta cheese, pesto
Fruit plateFive types of fruits
Basket of Popcorn and Corn SticksSweet popcorn, corn sticks with a light caramel and white chocolate glaze
Children's champagne with balloons for the
KLIKK party
Children's champagne without balloons
In cooperation with Kūkas Gardas, we will organize the cake of your holiday dreams.
More information by calling KLIKK KAFE
The posted photos are informative, the offer may change.
Ēdināšanu nodrošina z/s "Ennes". Reģ. nr. 49501006945 . Jūsu maltīte tiek gatavota uz iekārtām, kas iegādātas ar lauku atbalsta dienesta LEADER programmas atbalstu projekta Nr.20-04-AL32-A019.2101-000001. Savukārt interaktīvā terase realizēta projektā nr. Nr.21-04-AL32-A019.2101-000005.